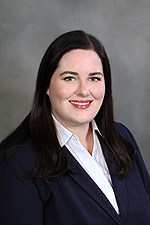 Contact Erin: escully@rcrfirm.com
Erin is an Associate with the Firm. She received her Juris Doctor from The University of Pittsburgh School of Law and Bachelor of Arts degree from Saint Mary's College, Notre Dame.
Erin is part of Our Firm's No-Fault Insurance (PIP and negligence), insurance coverage, and commercial litigation practices.
In her spare time, Erin enjoys skiing, yoga, reading, and calligraphy. She serves as an active member of The Daughters of the American Revolution.